Official School Forms
The forms below are commonly used forms for faculty and staff employed by DoDEA and assigned to schools and locations overseas. However, additional regulations, administrative instructions, manuals, policies, forms, guidance, and DoD directives can be accessed by clicking the link, DoDEA Forms on the DoDEA Website.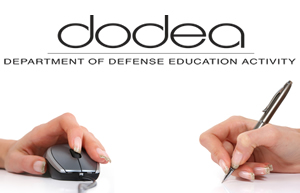 Certification / Re-certification Form
Use this form for re-certification.
DD 1351-2 Travel Voucher
DD 1351-2 Travel Reimbursement Voucher for TAD / TDY
DD 1351-2 Travel Voucher (Continuation Sheet)
DD-1351-2 Continuation Voucher for TAD/TDY

DD 1556-1 Tuition Assistance
Reimbursement of Tuition
DD Form 1616
This form is used for your Transportation Agreement when you take RAT.
EFT Fund Transfer Form
Electronic funds transfer (EFT) for travel claim form
Extracurricular Duty Assignment Application
Please submit this form to apply for any extra duty assignments (i.e. department head, student government)
Extracurricular Duty Compensation Form
Reimbursement of Extra Duty Activities
Computer Usage Agreement (DoDEA 6600.1) Employees
All staff members must sign this form to use DoDEA computers.
Leave Request Form Teachers
Leave Request Form for TP employees
Leave Form Civilian (NSPS) Employees
This leave form is for NSPS employees
LQA Reconciliation's Form
Use this form for LQA reconciliations
Official Passport Request
Complete this form for a new Official Passport
Salary Lane Change
Complete this form to request a lane change in your salary.
SF-1164 Claim Form in (U. S. Dollars)
SF-1164 Claim reimbursement for expenditures on official business (U.S.$)
TQSA_LQA OVERLAP REQUEST
REQUEST FOR Temporary Quarters Subsistence Allowance (TQSA)/Living Quarters Allowance (LQA) OVERLAP

Unfinanced Requirement (UFR) Form PDF
Use this form to submit all of your unfinanced requirements.
Unfinanced Requirement (UFR) Form Word
Use this form to submit all of your unfinanced requirements.