21st Century Facilities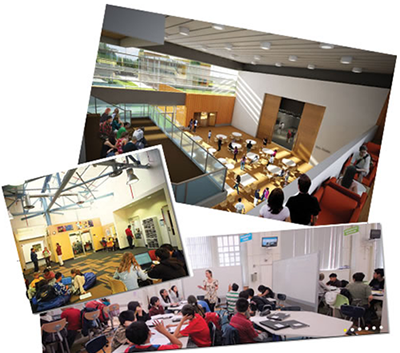 DoDEA educators began an extraordinary and innovative journey to transform classrooms (14 schools, 280 classrooms to date) that employ technology in ways that improve teaching and learning. Through this paradigm shift in methodology, we are changing the way teachers teach and students learn, using myriad of technological tools (e.g., one-to-one laptops, tablets, and hand-held devices).
The 21st Century school classroom has:
A neighborhood concept that encompasses a central Hub with 4 to 5 Learning Studios, a teacher collaboration area, small group rooms and one-to-one learning rooms.
Moveable walls for maximizing the flexibility for  the use of the space: the Hub and 4 to 5 Learning Studios that can be adapted to create larger Learning Studios (two or more Learning Studios combined) or all Learning Studios open to the Hub for a Neighborhood learning opportunity.
Varying levels of visual separation in the Learning Studios such as glass walls or more glass for eyes on children across the neighborhood.
Display areas for student work in the Learning Studio and the Hub in the Neighborhood.
Transition between the Neighborhood and the main school.
Location that provides identity for the Neighborhood.
Please click the link, 21st Century Education Facilities Specifications to learn about 21st Century Facilities, Design Guidelines, and Specifications from the DoDEA Website.