AP U.S. History: Course Syllabus
Course Code: SSU6110T
AP Syllabus

Welcome to the DoDEA Virtual High School. Thank you for visiting our course catalog.  Please navigate through the syllabus below to find out more information about this DVHS online course. If you have questions, please contact us at your earliest convenience.
Course Description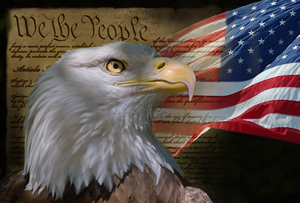 AP US History focuses on the development of analytical skills, along with a deep factual knowledge of the problems and themes, to enable students to critically interpret our nation's history. Students assess historical primary and secondary sources, weighing the evidence presented, to arrive at informed conclusions. Students learn to think like historians: evaluating sources and interpretations, developing thesis statements, supporting their interpretations with evidence, and communicating their conclusions persuasively. Students gain an appreciation for how historic events have shaped our modern political, social, cultural, and economic life. The course provides opportunities for guided inquiry and student-centered learning to foster critical thinking skills.
Image: U.S. Flag, Bald Eagle and Constitution montage; Shutterstock.com
Course Objectives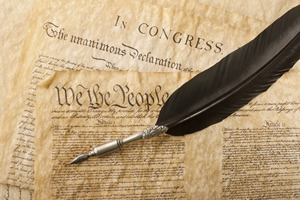 After completing this course, students will be able to:
Read, understand, and interpret a variety of primary and secondary sources.
Demonstrate proficiency in explaining, analyzing and evaluating problems and themes in US history.
Apply the concepts and procedures of historical inquiry to understanding US history.
Communicate effectively in writing interpretations and conclusions based on historical evidence.
DoDEA U.S. History Standards may be viewed by clicking the link.
Image: The Constitution of the United States of America with a quill pen; Shutterstock.com
Course Outline: Semester One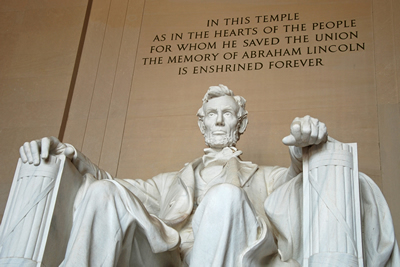 Module I: A New World
Section A – The First Americans
Section B – The Columbian Exchange
Section C – Colonial Societies
Section D – The English Colonies
Section D – The Colonies Expand
Module II: Revolution and Independence
Section A – Life in the Colonies
Section B – The American Revolution
Section C – A Republican Model
Section D – The Young Republic
Module III: The Growing Republic
Section A – Defining and Defending a New Nation
Section B – Rise of a National Economy
Section C – Mass Democracy
Module IV: A House Divided
Section A – The Nation Expands
Section B – An Impending Crisis
Section C – Civil War and Reconstruction
Module V: A New Order
Section A – The Gilded Age
Section B – The Rise of Big Business
Section C – A Nation on the Move
Semester 1 Exam
Image: Abraham Lincoln statue in the Lincoln Memorial in Washington D.C; Shutterstock.com
Course Outline: Semester Two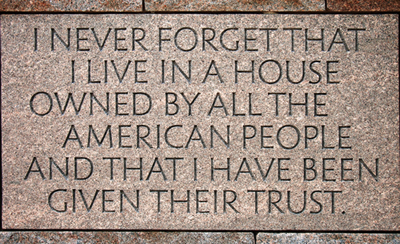 Module VI: Becoming a Modern Nation
Section A – Progressivism
Section B – America Turns Outward
Section C – A Pluralistic Society
Module VII: Domestic and Global Challenges
Section A – The Great Depression
Section B – Fighting WWII
Section C – The Home Front
Module VIII: A World Superpower
Section A – A Global Leader
Section B – Expanding Equity
Section C – Increased Prosperity
Module IX: A New Century
Section A – Competing Values
Section B – A New Role in the World Community
Section C – Increased Globalization
Module X: Understanding American History
Section A – Identity
Section B – Work, Exchange and Technology
Section C – Peopling
Section D – Politics and Power
Section E – America in the World
Section F – Environment and Geography
Section G – Ideals, Beliefs and Culture
Semester 2 Exam
Preparing for the AP US History Exam
Image: Quotation in the Franklin Delano Roosevelt Memorial in Washington D.C.; Shutterstock.com
Textbook
Out of Many: A History of the American People (AP Edition), 2007
ISBN Numbers (Student Edition) 0-13198613-9
Publisher: Pearson - Prentice Hall & Addison-Wesley
Student Study Guide
AP Test Prep Series: AP U.S. History Pearson Education to accompany: Out of Many: A History of the American People (AP Edition) 2007
Pearson-Prentice Hall
Image: Cover: Out of Many: A History of the American People (AP Edition), 2007